About Majors Home Improvement
Since 1997, Majors Home Improvement has delivered premium products, quality workmanship, and unparalleled service, before and after the sale – all at an affordable price. The satisfaction of our clients is critical to our continued success. In fact, we owe our business growth to repeat customers and referrals from happy clients throughout Pensacola, Gulf Breeze, Navarre, Niceville, Daphne and Fairhope. We are proud to be the local home improvement company of choice for Northwest Florida.
In May of 2010, Majors Home Improvement was selected by Remodeling Magazine to join the Remodeling Big50, an elite group of remodeling companies that have set exceptionally high standards for professionalism and integrity through exemplary business practices, craftsmanship, and impact in their community or the industry at large.
Our Awards:
Remodeling Big 50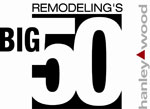 2018 BBB Torch Winner

BBB Accredited

Our Mission:
Majors Home Improvement is committed to providing unsurpassed customer service with the absolute best home improvement value, employing happy and knowledgeable people, and observing state and municipal building code regulations as well as upholding the highest ethical standards in the industry.
OUR CUSTOMER is the most important person in our business.
OUR CUSTOMER is not dependent upon us; we are dependent upon them.
OUR CUSTOMER is not an interruption of our work; they are the purpose of it.
OUR CUSTOMER is not an outsider; they are part of our business.
OUR CUSTOMER is not a cold statistic.
OUR CUSTOMER has wants; it is our job to fulfill those wants.
OUR CUSTOMER is deserving of the most courteous and attentive treatment we can provide.
OUR CUSTOMER is the lifeblood of our business; without them we have no business.
Interested in working with the Majors Team?
The Majors Team
Majors Home Improvement is a local owned business based in Milton, FL. In 1997, Mike Majors founded Majors Home Improvement to provide quality home improvement products to our customers. We are local – our entire team of sales, office and installation professionals, live and work here in Northwest Florida. We are proud to employ local, knowledgeable people to deliver excellent customer service for our clients.