Sturdy and Beautiful Patio Covers, Enhancing Backyards in Pensacola, FL, and Surrounding Cities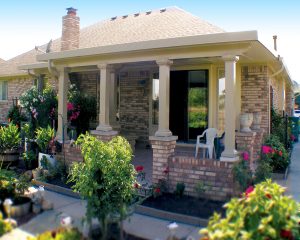 While living in Pensacola, Florida, means you don't have to deal with snowy winters and can walk outside in short sleeves for most of the year, there are some minor downsides to living in a subtropical climate. Take summer, for example. It's hot and humid, with the heat index regularly rising above 100 degrees. This means that, even if you have a beautiful backyard that you want to enjoy, you're probably spending most of your time escaping the heat indoors. The solution? Patio covers. With a patio cover gracing your backyard, you'll be able to sit back, relax, and enjoy all the outdoors has to offer. Imagine hosting barbeques, Fourth of July shindigs, birthday parties, and so much more, and never again worrying about the relentless heat putting a damper on the festivities.
Majors Home Improvement Proudly Installs Patio Covers in Pensacola
If you want to have a patio cover installed in your backyard, then turn to Majors Home Improvement. We are a local, family-owned company that has been serving residents in the area since 1997. Our customers are the purpose behind everything we do, so we go the extra mile to ensure their needs are met every step of the way. This is why we provide complimentary design consultations that include:
A discussion with our expert team about the different patio cover options available to you, as well as guidance to select the design that best meets your preferred aesthetic
A free estimate for your project that will offer a competitive rate – so competitive, in fact, that we encourage you to seek out other quotes because we are so confident that we provide the best value around
Information about our installation service that is the best in the business as our craftsmen are not just skilled in what they do, but also provide Red Carpet Service that ensures your home will be cleaner than when we arrived
The Best Service Combined with the Best Products
What's more, at Majors, we understand that even the best home improvement experience can be marred if a subpar product is installed. This is why we are so pleased to install top-quality patio covers that stand strong through hurricane-force winds, remain beautiful year in and year out, and even keep your patio comfortable during the summer. Plus, our patio covers aren't one-size-fits-all models but customized specifically for your existing patio area. All of our patio covers are built with the highest quality roofing systems and engineered to fully comply with building code guidelines.
If you'd like to discuss the patio covers we install for homeowners in and around Pensacola, contact Majors Home Improvement today. We're pleased to hold a consistent A+ rating with the Better Business Bureau, a testament to our dedication to customer satisfaction.