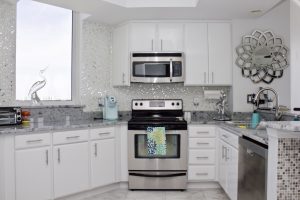 Are you looking for a Cabinet Makeover in Pensacola, Florida, or a surrounding city? If so, your search ends here with Majors Home Improvement. Since 1997, we have provided countless homeowners throughout the area with home improvement upgrades – everything from windows to cabinet makeovers – and we are positive we can help you with your kitchen cabinet project. If you are generally happy with the layout of your kitchen, but simply want to refresh its look, give us a call and we'll be happy to help you turn your dreams into reality.
At Majors Home Improvement, our Cabinet Makeover process is simple and includes:
A consultation, in which one of our design experts will discuss the look of your dream kitchen, inspect the condition of your current cabinets, and take comprehensive measurements
Thousands of different cabinet door styles and finishes samples to review in the lighting of your home space
An accurate, professional, and efficient installation, in which our highly trained technicians will complete your cabinet makeover while being respectful of your home by maintaining a clean work site
A guarantee on our workmanship with an extensive service and parts warranty
The popular kitchen cabinet service we offer for Pensacola homeowners is Cabinet Makeover. This is a cost-effective option that will beautify your space. We'll remove the existing cabinet doors, drawers, handles and knobs, hinges, and hardware, leaving only the cabinet boxes and frames intact. Then, we'll cover these boxes and frames in a laminate or wood veneer. After that, your custom-made doors will be hung in place, as well as your custom-made drawer boxes. Lastly, we'll install brand-new knobs and pulls (selected by you), giving your entire kitchen a Cabinet Makeover!
There are more options to add roll-out shelving, concealed garbage, organization items such as spice racks, lazy Susans, and much more!
To learn more about Cabinet Makeover for homeowners in Pensacola, FL, and surrounding areas, contact us today.