A Cabinet Makeover Will Refresh the Look of Your Kitchen in Pensacola, FL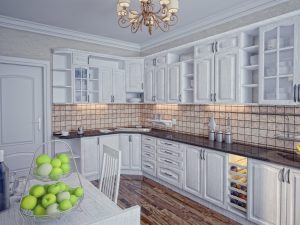 The kitchen is the heart of the home, so if yours doesn't make you happy every time you step inside it, then it may be time for a change. However, you may be hesitant to undergo a full kitchen renovation, knowing it's a costly and time-consuming process. This is exactly why our team at Majors Home Improvement is proud to offer cabinet makeover services that can change the entire look of your kitchen without breaking the bank. We serve homeowners in the Pensacola, Florida, area, and we're eager to help you love your kitchen once again.
How Our Cabinet Makeover Works
At Majors, we go the extra mile to ensure every part of our remodeling process is as seamless as possible, and this holds true for our cabinet makeovers. To begin, we'll come to your home for a complimentary design consultation, which won't be a pushy sales pitch, but a discussion of what we offer and how we can help you. We'll show you all of the different styles and finishes you'll be able to choose from, and our design consultants will even provide expert guidance to help you select the options that will look the best with your home's aesthetic. Then, once we're ready to install, our skilled craftsmen will come to your home and:
Remove the existing cabinet doors, drawers, handles, and hardware so that only the cabinet boxes and frames remain behind
Cover the cabinet boxes and frames with a laminate or wood veneer
Install your new, custom-made cabinet doors, drawer boxes, knobs, pulls, and hardware
Additionally, we can add organizational features to your kitchen cabinets, such as roll-out shelving, concealed garbage, spice racks, and Lazy Susans, among others, to make your kitchen as perfect as possible.
You Deserve Red Carpet Service
Throughout the entire cabinet makeover, you can expect Red Carpet Service from our team. This means that we will be in constant communication with you so that you always know what stage your project is in. It also means that our craftsmen will be respectful of your home when working and even take care to lower your pets' stress. Once we're finished with installation and everything has been carefully looked over, we'll make sure your home is cleaner than it was when we arrived. We believe our customers deserve nothing less than that.
If you want to get your cabinet makeover started, contact Majors Home Improvement today. One of our friendly representatives will be happy to schedule a complimentary consultation at your home in the Pensacola area.