Creating Eye-Catching Custom Closets for Homeowners in the Greater Pensacola, FL, Area
Your closets may be used to store clothes and other items, but that doesn't mean they don't need to be attractive! Majors Home Improvement can help put a smile on your face every time you enter that space with our comprehensive custom closet creation service. We proudly breathe new life into old closets at homes in Pensacola, Florida, and beyond—and we'll be happy to add you to our long list of satisfied customers, too.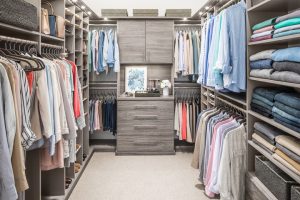 Your Custom Closet Can Show Off Your Style
We offer two different mounting options. First, there is the wall-hung system that is secured to the studs in your walls and floats just above the floor. This makes it easy for you to clean and gives your closet a modern look. The second option is the floor-mounted system, which is attached to the wall with brackets. This style offers deeper shelving and the ability to hold more weight, and it gives the sophisticated look of built-in furniture.
No matter which system you choose, you'll be able to pick from a broad selection of colors, wood grain textures, and finishes, door and drawer designs, decorative trims, and metallic hardware styles to create an aesthetic that makes your custom closet truly one of a kind.
Custom Garages
In addition to custom closets, Majors Home Improvement can also rejuvenate your garage. We install garage organization systems with your choice of embellishments, classic shade, wood, and metallic finishes, and numerous accessories, as well as layered architectural details that give your garage even more visual pop.
Get Started Today
Homeowners in Pensacola, FL, and nearby neighborhoods count on Majors Home Improvement for beautiful custom closets and garages, as well as the signature Red Carpet Service you won't find with any other contractor. Contact us to learn more and begin bringing your dream closet to life!