Screen Rooms Allow Homeowners in Pensacola, FL, to Make the Most of Their Backyards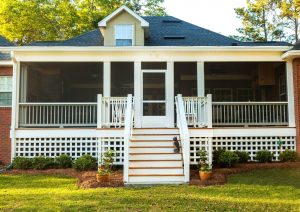 There is no reason to settle for anything less than the best if you've been wishing for a screen room at your home. This is why you should partner with Majors Home Improvement. Since 1997, we have installed high-quality, beautifully designed screen rooms for homeowners in and around Pensacola, Florida, and we would be so pleased to do the same for you. Whether you want to enclose a lanai, porch, or patio, we will make it happen.
Our Screen Rooms
The screen room we install at your home will be custom designed with your home in mind. It will be built with a wall and roof system that are top of the line and durable enough to handle whatever Mother Nature throws its way. The engineered construction will also fully comply with any and all building codes; we won't make guesses on-site, but make sure everything we do is up to our strict standards. And, once your new screen room has been installed, you'll be able to enjoy all the outdoors has to offer without contending with bugs, UV rays, or inclement weather. Imagine:
Hosting a summer party without worrying about a sudden rainstorm disrupting your gathering
Relaxing with a good book on the weekend without having to stop reading every few seconds to slap away another mosquito
Letting your children play in the sunshine without having to reapply sunscreen every half-hour
How Majors Stands Out
We promise Red Carpet Service to every customer we serve, and we don't say that lightly. In fact, it's the cornerstone of our company because we know our customers are the reason Majors exists. They are the lifeblood of our business, and as such, we provide individualized service from beginning to end and bend over backward to make them happy. We have maintained an A+ rating with the Better Business Bureau and a five-star rating with GuildQuality for many years, and we are incredibly proud of these designations as they speak to our continued success in our goal for total customer satisfaction.
Another way we stand out is in the skilled installation service we provide. Our craftsmen are highly experienced, and factory certified to install our screen rooms, and they always provide impeccable work. Even better, they will be respectful of your property and leave your home cleaner than they found it.
Get Started Today
To get your screen room installation started, contact Majors Home Improvement today. We are proud to install screen rooms for homeowners in Pensacola and all surrounding cities.