Premium Entry Doors That Boost the Curb Appeal of Homes in Pensacola, FL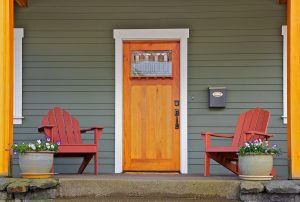 If you wrinkle your nose or sigh with displeasure every time you look at the entry door of your home, it may be time for an upgrade. After all, your entry door is the focal point of your home's exterior and if you're not happy with it, why not change it? Of course, it often isn't as simple as that because, as anyone knows, home improvement projects can be aggravating, take longer than expected, and be costlier than promised. Thankfully, in the greater Pensacola, Florida, area, there's Majors Home Improvement. Established in 1997, we have spent decades helping homeowners beautify their residences with our premium entry doors. We promise to exceed your expectations and provide you with a positive renovation experience. It's not a myth – our thousands of happy customers can attest to it!
Majors Select™ Fiberglass Front Doors
Exceeding your expectations is about more than just the service we provide; it's also about the products we offer. Ultimately, providing you with a well-built entry door is what will leave the most lasting impression. This is why we solely install our Majors Select™ fiberglass entry doors. These doors are well-regarded for their durability and energy efficiency. They are:
Engineered with a polyurethane core to provide incredible thermal efficiency
Constructed with composite stiles that resist rotting, denting, chipping, and splintering
Able to withstand all types of weather events, as they meet wind and missile impact code requirements
Made to resemble gorgeous woodgrain textures, such as oak or mahogany, and won't split, crack, or rot as actual wood doors can
Red Carpet Service – Our Promise to You
Our factory-certified craftsmen are committed to providing Red Carpet Service to our customers, ensuring they have an enjoyable remodeling experience with us. They will watch after your pets to make sure they're not stressed out while they're working, as well as make sure your home is cleaner than when they arrived. These are just some of the ways we go above and beyond for our customers.
Plus, the installation you receive from our craftsmen will be unlike anything you've ever experienced. They won't dawdle around, but get to work immediately and utilize the industry's best practices to install your new door. They will also be friendly and helpful, always available to answer your questions.
Get Started Today
There's no better company to trust for new entry doors in Pensacola, FL, than Majors Home Improvement. Let us prove it to you – contact us today to schedule a complimentary consultation.