The Best Sunrooms Installed by the Best Company in Pensacola, FL – Majors Home Improvement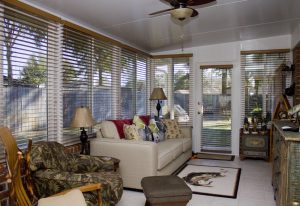 At Majors Home Improvement, we understand why sunrooms are so popular with homeowners in Pensacola, Florida. While the weather can be beautiful on a nearly daily basis, it can also be brutal – the humidity, the sudden downpours, the mosquitos. It can wreak havoc on any outside plans. But with a sunroom, you can comfortably relax season after season, enjoying the beautiful views and sunshine without contending with nature's disadvantages. If you're ready to enhance your home with a sunroom, Let Majors Do It! We would be honored to come to your home and help you make your renovation dreams come true.
Our Enclosures Are Top of the Line
We believe that our customers deserve the best products on the market, and this is exactly what you'll receive with a sunroom from Majors. Engineered for the Florida climate, our patio enclosures are a well-built addition to any home in the Pensacola area. They feature:
Floor-to-ceiling glass walls that provide beautiful views of your backyard
Gabled roofs with traditional shingle designs to provide a cohesive look to your existing roof line
Vinyl insulated windows that provide impressive energy efficiency and ensure the sunroom is comfortable even during a summer heatwave
Plus, the sunroom we install for you will be fully customized so that it looks and feels like a natural extension of your home. We can even add brick knee walls and glass transoms to add a level of elegance to your enclosure to make your home the most beautiful on the block.
We Go Above and Beyond for Our Customers
At Majors, we believe that our customers are the lifeblood of our business and the purpose of everything we do. This is why we strive to exceed their expectations and supply the best home improvement experience they've ever had. We do this by treating them with respect, being attentive to their needs, and providing seamless service. And we do this by providing Red Carpet Service, a set of internal customer service guidelines that all our installers follow when working on a home. Red Carpet Service entails being timely, being mindful of the landscaping, being kind to pets, and leaving a home cleaner than when we arrived.
Schedule a Complimentary Consultation Today
Are you ready to get your sunroom installation started with Majors Home Improvement? There is no better time than now! Contact us today to learn more about our sunrooms and installation procedures. When you call, we will be pleased to schedule a complimentary consultation at your home in Pensacola.