Your Source for Screen Rooms in Daphne, AL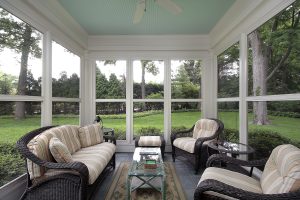 Screen rooms allow you to enjoy more of the outdoors with less of Mother Nature's nuisances. They effectively block out mosquitoes and other bugs and prevent leaves and other debris from blowing into your space. At the same time, a screened-in patio or porch allows you to enjoy the natural sunlight and a refreshing breeze so you can spend more time enjoying the outdoors.
If you're interested in having a screen room installed on your property in Daphne, Alabama, the company to turn to is Majors Home Improvement. We are pleased to be your source for custom screened-in porches and patios. With us, you can expect the red carpet treatment from start to finish.
Features of Our Screen Rooms
We'll start with an initial design consultation to review your ideas and help you find the options that will best suit your needs. We offer a variety of customizations for our screen rooms and can help you find the design elements that best suit your preferences. For instance, you'll be able to choose from a brick knee wall, insulated knee wall, kick plates, or all screen material for the bottom 16 to 24 inches of your screened-in enclosure. We'll also work with you to determine which size and shape will best fit your home.
Once you're happy with your screen room selection, you can count on the professionals at Majors Home Improvement to handle the installation process with precision and care. Our screen rooms feature an aluminum structure that's highly durable and resists corrosion, so you can expect it to stand the test of time and provide you with years of enjoyment.
Get Started on Your Screen Room
If you'd like to learn more about the screen rooms we offer and install for homeowners throughout Daphne, AL, contact Majors Home Improvement today.