Installing Beautiful Screen Rooms for Homeowners in Fort Walton Beach, FL
The nice thing about Florida living is that you can enjoy the great outdoors virtually year-round. When you have a screen room, you, your family, and your guests can get all the benefits of outdoor living without the problems of bad weather, annoying bugs, or debris blown by the wind. Not all screen rooms are created equal, though.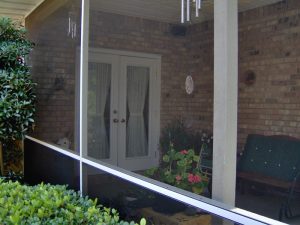 At Majors Home Improvement, we know what sets a great screened-in porch apart from the rest. That, along with our peerless customer service, is why Fort Walton Beach, FL, homeowners trust us with their screen room installation and other exterior home remodeling services.
What Makes a Screen Room Great?
When you're considering screening options for your porch, there are two things you need to keep in mind: form and function. Here's what you get when you choose Majors' products for your screen room:
Toughness Inside and Out
A screen room that makes heads turn and jaws drop is worthless if it can't take a beating. That's why we use extruded aluminum structures with high-quality wall and roof systems.
Automatic Curb Appeal
Even if you own the most durable screen room in Fort Walton Beach, Florida, you should be able to look at it with pride. A well-designed screen room can be the part of your house that everyone wants to spend time in. Majors Home Improvement builds them all over the Gulf Coast region. We provide custom designs to make your new room fit perfectly with the look and feel of your home.
We Roll Out the Red Carpet for You
At Majors Home Improvement, we pride ourselves on giving you award-winning customer service. Our "Red Carpet Service" helps us maintain an A+ rating with the Better Business Bureau and has won us the Torch Award for Ethics from the BBB Northwest Florida Foundation.
Contact us today to schedule a consultation for your new screened-in porch.