Installing Striking Screen Rooms for Navarre, FL, Homeowners
Enjoying Florida's signature sunny weather gets a whole lot easier with a screen room. When you want to get some fresh air and appreciate what local nature has to offer, screened-in porches make sure mosquitoes, wasps, and lovebugs aren't uninvited guests.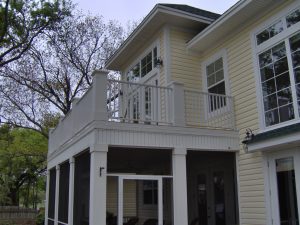 Navarre, Florida, homeowners call Majors Home Improvement when it's time to upgrade their porch. Between our exceptional customer service, our first-class work, and our high-quality finished products, we've become a trusted name in the area for screen rooms and other exterior home remodeling services.
About Our Screen Rooms
At Majors Home Improvement, we've installed countless screen rooms over the years and know exactly what separates the best from the rest. Here's what you get when you choose our products and services:
Durability – For the sake of strength, we install extruded aluminum structures with high-quality roof and wall systems.
Protection – Wind, rain, and bugs will no longer be a burden when you just want to spend time on your porch in peace.
Custom design – Majors Home Improvement will design your screen room to match your home's style and look like the kind of room anyone would love to spend time in.
About Us
Have you ever wondered what it's like to be a celebrity? We can give you a sneak peek (and you don't even have to worry about the paparazzi). Majors Home Improvement's signature "Red Carpet Service" is standard procedure at every home we work on. Our crews will treat you like a superstar while we're working on your home and meet your needs. We're mindful of your pets and plants, we take off our shoes or wear booties if we have to come inside, we keep our phones silenced, and so much more to give you award-winning, star-quality service.
If Majors Home Improvement sounds like the right contractor for your screen room, contact us today to get started.